You might be one of the expat wives who dreamed of becoming fluent in English or some other language just by living abroad.
In reality, just being in English speaking countries like Canada or US doesn't improve your English automatically.
Expat wives who have improved their language skills are someone who put a certain amount of effort.
In other words, you can definitely acquire any new language if you make an effort in a proper way.
Difference between good English learners and others
Whether it's English or any other language, what good leaners always do is a proper repetition of input and output.
When I was a college student, there were many international students studying Japanese from scratch.
Although they all started almost from the same place, some became very fluent in Japanese while others didn't.
Being one of the Japanese language tutors for them, I found out the difference comes from whether they do Japanese "input and output" in a "balanced way" on a "daily basis".
One of them became so good at Japanese and finally got a job from his dream company in Japan.
What he was committed to doing was repeating input and output of the Japanese language.
Balance of input and output is a key for English study
I have posted several times about how to create or find opportunities for English output using my life in Chicago as an example.
Some of them are…
The Secret Of Motivation For Expat Wives' English Study
How "Internations" Can Connect Expats Or Expat Wives
Best Friend For Expat Wives Who Want To Study English?
Conversation Exchange For Expat Wives
How Meetup Helps Expat Wives To Make New Friends Abroad
While I do spend a lot of time on "output" by joining events or meeting new people to fully enjoy my life in Chicago, I try not to forget about "input" too.
In this post and next, I will share my personal choice of "9 Best App/Websites For Expat Wives' English Study".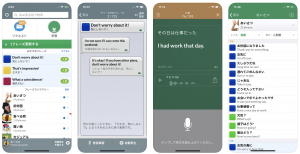 ※this is a Japanese-English app
It's a paid app but really helps you learn "real life" English with as many as 2,900 phrases in various situations.
Each phrase has the actual sound of the native speaker's conversation and helps you memorize words with use cases.
It even has a voice recognition feature and allows you to practice pronunciations too.
As shared in 「The Secret Of Motivation For Expat Wives' English Study」, TED is a platform of presentation in various genre.
You can not only learn English in the area of your interest but can learn how to present too.
Presentations have transcripts so that you can use the material for shadowing practice or other purposes.
When you get tired of studying, just watch your choice of movies or dramas on Netflix!
Being Abroad, you have less opportunity to watch movies with subtitles of your local language.
You still can use English subtitles and makes your fun time a bit of a study time too!
It's easier to remember new words if you have a use case or situation in movies.
Connecting words to situations are close to how we've all learned our mother languages in childhood.
To be continued…
In this post, I've shared how balancing input and output is important for English study.
I will introduce the remaining 6 apps/sites for English "input" next time.
Go JVs!