In the last post, I explained how both "input" and "output" are important for English study.
Please check the above link as I've already shared 3 out of 9 tools I recommend for English "input" study.
I will show you the remaining 6 tools in this post!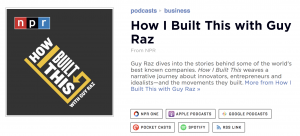 I know most of you are familiar with Podcast.
It's one of the most popular tools among English learners as you can listen to various different genres like news, comedy, self-improvement, etc.
I love it too because it's the best format to enjoy during commuting, cooking or doing something else.
Although it's always best to find your own best, I just want to share one of my favorites here; "How I Built This with Guy Raz"
This is a must-check program especially if you are interested in entrepreneurship or business in general.
You can hear interviews of founders of successful companies like Airbnb or Lyft.
They are all big now, but there have been various background stories on the way.
It's not just fun to hear all the stories, but you can also get many pearls of wisdom from entrepreneurial minds.
We live in an era where we always can catch up with all the news with smartphones or tablets.
If you don't have a TV in your house, I'm with you.
Living in Chicago, I'm choosing to watch Good Morning America(GMA) on ABC News app.
If you are someone like me who don't really like watching gloomy news in the morning, this program is for you.
Just try to find one or a few good local news programs in a city you currently live as an expat/expat wife!
3 points I want to emphasize here are↓
You can study English by watching news on the app
If that becomes your routine, you can train your listening skill every morning
You can find new or trending words watching the latest news
Youtube
There are many videos good for English study posted on Youtube.
Some shares with you how he or she acquired English without any international exposure, the others teach you how to study for TOEIC or TOEFL.
I just recommend that you subscribe as many channels as you like so that you get notified to catch up with all the latest videos uploaded, which will remind and encourage you to keep studying!
You will hear different English accents and it will improve your listening skill too.
My personal favorites of Youtubers for English learners in Japan (These are also good for your Japanese study if you speak English!) are…
If you prefer "study something in English" to just "study English", you can always find Youtube channels of your interest in English.
Some of my favorites are…
Amy TV by Amy Landino
She provides you with information on life hack or mindset to live a better life.
Live Your Style By Sharrah
You can learn how to make your house comfier, DIY cute interior good, seasonal house arrangement, etc.
House & Home
Professional designers will show you how to reform houses.
While just watching videos is totally fine, it's better to do "shadowing" with scripts or record unknown words you find.
Twitter/Instagram
Not everyone loves "delivering" on Twitter and Instagram while many expat wives doing this sharing their life abroad.
For your English study, You can just receive all the information from your favorite celebs, Youtubers, news account, etc.
Just reading or watching what's on Twitter or Instagram gives you an opportunity to see today's "real" English or how native English speakers talk with what kind of words.
Blue Apron(for people living in the US)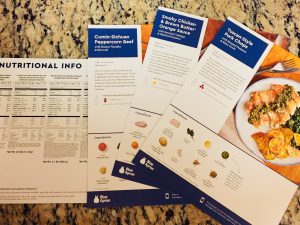 Blue Apron is a meal-kit delivery service here in the US.
All the recipes are of course in English, so you can study English while cooking.
Even if you don't fully understand vocabularies, the recipes have many pictures so no worries!
If you want to know more about Blue Apron, check the post below!
Blue Apron Saves Hustle Life Of Expat Wives In US
Enjoy studying English!
The 9 tools I've shared are just my personal choices and you don't need to copy everything at all.
What's important is to find out the best way and tools for you to fully enjoy studying English.
I'm happy if my recommendation could help you!
Go JVs!