"Coworking" is quite common in the US and now getting more and more popular in Japan too.
You can "work" if you are with your laptop, smartphone or tablet, and it's ideal (and now it's possible!) if you can work wherever, whenever and with whoever you like.
In this post, I will tell you why I recommend coworking to expat wives and trailing wives who are career-oriented.
What is Coworking?
While there are various types of coworking, it usually means that people gather at one place doing their own work with their laptops or some other gadgets.
This kind of communities are increasing as there are more and more people such as nomad workers who prefer not to be bound and restricted by place or time.
These are good place for students and at-home workers too as "another place" to work or study other than home.
How I met coworking
I first came across with a concept of coworking back when I was living in Canada
One day when I was working by myself at a cafe, and a girl from University of Toronto invited me to join a coworking group she belonged to.
Working alone is not really my thing, and I didn't need a second to decide to join the group.
I still remember how I got exited meeting all the people from various backgrounds and industries through that coworking group.
Coworking in the US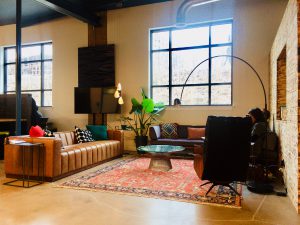 Once I moved to the US, I knew I want to interact with people in local communities while working on my own stuff, so I just tried to find a good coworking space in my neighborhood.
Then I found 818 Coworking on Eventbrite, and visited the place on their free day!
They welcomed us with big smile and said this coworking space just opened 5 months ago.
Yes this place is very new and stylish with many individual desks, different size of meeting rooms, big sofas and a neat kitchen.
It's good to be able to move from one place to another inside the space for a change and refresh.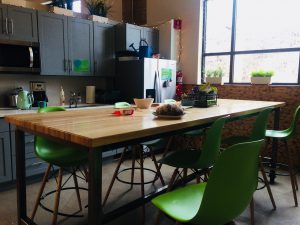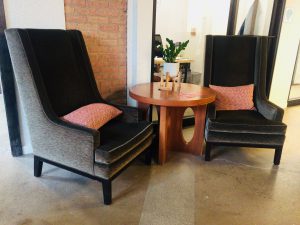 Pros and Cons?
There many pros or advantages about this 818 Coworking in Chicago.
Interaction with local people
Networking and business connections with other users
Free snacks and coffee!
Hight-adjustable desk -You can even make it a standing desk!
Free entrance between 8am and 5pm
Event opportunities like Lunch & Learn
If you are one of expat wives who want to find your community, space, time to work, or make a local connection for your career, coworking space is a place to go.
Cons? Maybe just about its pricing….but we all know there is no free lunch.
818 has several price has several  membership plans. starting from $20/day.
Happy users
I talked with a few other users and they are all happy with the space.
People coming to coworking space are generally nice, social and willing to collaboration.
That's one of the reasons why I like coworking spaces.
People talk to each other, share their network and even start some businesses together.
I hope many more non-American expat wives will embrace a concept of cowork and join communities surrounding coworking spaces.
Ask me any questions or give me any suggestions!